Here at RC stairlifts we offer a reconditioned option for a curved staircase The  BS101 is designed  to accommodate  curved or more complicated staircases; it negotiates bends, landings and corridors with ease and can be installed on either side of the stairs enabling us to accommodate almost any staircase configuration.
The BS101's slim carriage and rail also makes it suitable for narrower staircases and when folded away leaves plenty of room for other stair users.
Operating the BS101 couldn't be simpler with push button controls or optional joystick it glides gently up or down stairs with ease and the swivel seat makes getting on and off the stairlift easy and safe.
The stairlift's battery powered motor also ensures a smooth gentle ride and with automatic charging from the top and bottom of the rail you can be sure it is always ready to use, even in the event of a power cut.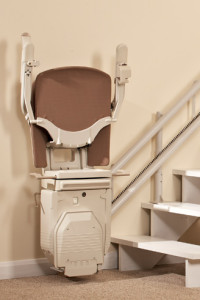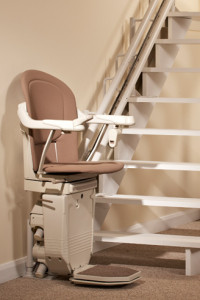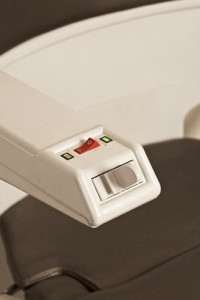 below is a video that highlights the functionality of the BS101 stairlift
Interested ? why not call us on 01 513 4996 our  prices for reconditioned stairlifts start at 1000 euro (depending on availability)
[vc_row full_width="" parallax="" parallax_image=""][vc_column width="1/1″][vc_column_text]We have a large stock of reconditioned straight stairlifts ready and available for fitting, all priced to suit your individual requirements. All our reconditioned stairlifts have passed our 50 point check and fitted with a new battery. All serviceable parts replaced and safety checks performed in our own workshops so that the stairlift you receive will be in "Full Serviceable Working Order" and tailor-made to fit your staircase and your requirements. We also offer 12 months warranty with every stairlift we sell. we are supremely confident as well as a hassle free installation you will no issues with your reconditioned stairlift. its worth nothing, if you have a curved staircase, we can install a straight stairlift up to the curved point. We always have an option available !!!!
[/vc_column_text][vc_video title="Minivator Simplicity Plus Stairlift" link="https://www.youtube.com/watch?v=nerAYLffSiA"][vc_media_grid style="all" items_per_page="10″ element_width="4″ gap="5″ button_style="rounded" button_color="blue" button_size="md" arrows_design="none" arrows_position="inside" arrows_color="blue" paging_design="radio_dots" paging_color="grey" loop="" autoplay="-1″ item="mediaGrid_Default" grid_id="vc_gid:1455810697370-3b30f4a4-ddf2-3″ include="43,42,36,35,34,33″][/vc_column][/vc_row][vc_row full_width="" parallax="" parallax_image=""][vc_column width="1/1″][vc_column_text]Contact RC stairlifts at any time on 01 513 4996,
The below video highlights our most commonly installed starlift
Interested ? why not call us on 01 513 4996 our prices for reconditioned stairlifts start at 1000 euro (depending on availability)
.[/vc_column_text][/vc_column][/vc_row]